Resource Spotlight: Health Workforce Development Planning in the Sultanate of Oman: a Case Study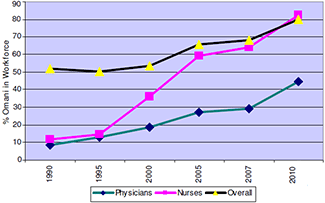 Omani in workforce © Human Resources for Health
The Sultanate's early development initiatives focused on building a strong health care infrastructure by importing workforce. However, the policy-makers stressed national workforce development for a sustainable future. Beginning with the formulation of a strategic health workforce development plan in 1991, the stage was set for adopting workforce planning as an essential strategy for sustainable health development and workforce self-reliance. Oman continued to develop its educational infrastructure, and began to produce as much workforce as possible, in order to meet health care demands and achieve workforce self-reliance.
Oman has successfully innovated workforce planning within a favorable policy environment. Its intensive and extensive workforce planning efforts, with the close involvement of policymakers, educators and workforce managers, have ensured adequacy of suitable workforce in health institutions and its increased self-reliance in the health workforce. This case outlines how Oman is continuing to turn around its excessive dependence on expatriate workforce through strategic workforce development planning. [from abstract]
View this resource.
The HRH Global Resource Center has other resources on this topic including:
For additional resources on this topic, visit the Planning subject category.
Past Resource Spotlights