Resource Spotlight: Alleviating the Burden of Responsibility: Report on a Study of Men as Providers of Community-Based HIV/AIDS Care and Support in Lesotho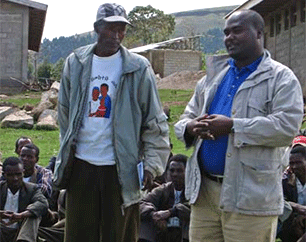 Photo credit S. Kalscheur
Gender disparities need to be addressed in human resources for health policy and planning, workforce development and performance support to assure that men and women contribute to and benefit from social and economic development on an equal basis. The desired outcomes of all gender-related actions in HRH are improved service delivery and health for workers and for the communities they serve.
Most men in Lesotho have been attracted to mining in South Africa, but as these jobs have disappeared, and as the demand for more workers to respond to community-based HIV/AIDS care and support needs has increased, there is increasing awareness of the need to move beyond traditional divisions of labor, multiply the number of hands to do the work of care giving and alleviate the burden of responsibility. The Capacity Project conducted a study to understand the gendered division of labor and the dynamics of care giving in three districts of Lesotho and to identify sustainable, gender redistributive approaches to recruit, train, support and retain men in jobs traditionally considered the province of women. [from author]
View this resource.
The HRH Global Resource Center has other resources on this topic including:
For additional resources on this topic, visit the Gender Issues subject category.
Past Resource Spotlights