Resource Spotlight: Investing in Midwives and Others with Midwifery Skills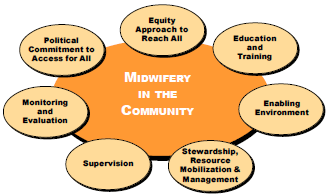 Framework of midwifery scale-up issues ©UNFPA
This guidance note is focused on action to scale up midwifery care at the community level, responding to participants' feeling that the critical shortages and bottlenecks that deny women and their families' access to adequate care are to be found in this area. Specifically there is an urgent need to address the needs of underserved people, who are often in rural and poor urban areas. Provision of midwifery care in the community responds to the human right of all women in the world to competent midwifery care, regardless of where they live.
Quality midwifery care, provided close to where women live, can increase families' capacity to self-care during pregnancy, as well as before, during and after childbirth; it can also increase access to emergency obstetric and neonatal care by educating and empowering women and their communities. Despite repeated evidence that midwifery care at the community level is inadequate and lacks competent providers with the requisite back-up and support, country plans often fail to address the need. [from introduction]
View this resource.
The HRH Global Resource Center has other resources on this topic including:
For additional resources on this topic, visit the Midwives subject category.
Past Resource Spotlights