Resource Spotlight: Building Bridges: Home-Based Care Model for Supporting Older Careers of People Living with HIV/AIDS in Tanzania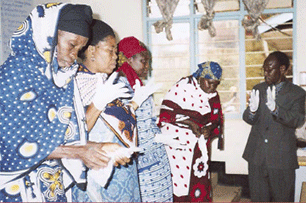 Building Bridges © CHAWAMA/HelpAge International
Tanzania has developed various policies and guidelines to address the HIV/AIDS pandemic including the National Guidelines for Home-Based Care Service Providers. However, the guidelines lack an understanding of the specific needs and role of older people as primary caregivers. There is an underlying assumption that all caregivers are mobile adults and that the family has the necessary economic means to pay for medication, water, food and shelter. As a result, the urgent needs of older caregivers – physical, medical, financial and emotional – arising from caring for people living with HIV/AIDS (PLWHA) have not been targeted.
Research in three regions of Tanzania showed that 20-40% of PLWHA and 25-75% of vulnerable children are cared for in older headed households. Older people's role of caring for their dependents is difficult in a complex environment. They are unprepared with little knowledge or skills to assist them in their unfamiliar but everyday caring role. They face stigma and discrimination when accessing services and are isolated without a formal support structure in the communities where they live. [Adapted from author]
View this resource.
The HRH Global Resource Center has other resources on this topic including:
For additional resources on this topic, visit the Home-Based Care subject category.
Past Resource Spotlights