Resource Spotlight: Incentives for Retaining and Motivating Health Workers in Pacific and Asian Countries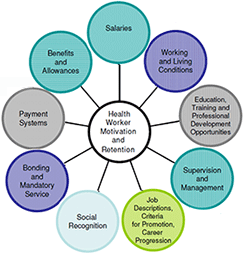 Factors in HW motivation and retention
The severe shortage of health workers in Pacific and Asian countries is a critical issue that must be addressed through policy, planning and implementation of innovative strategies, such as incentives, for retaining and motivating health workers. While economic factors play a significant role in the decisions of workers to remain in the health sector, evidence demonstrates that they are not the only factors. Research findings from the Asia-Pacific region indicate that salaries and benefits, together with working conditions, supervision and management, and education and training opportunities are important. The literature highlights the importance of packaging financial and non-financial incentives.
This paper highlights the situation of health workers in Pacific and Asian countries to gain a better understanding of the contributing factors to health worker motivation, dissatisfaction and migration. It also examines the regional and global evidence on initiatives to retain a competent and motivated health workforce, especially in rural and remote areas; and suggests ways to address the shortages of health workers in Pacific and Asian countries by using incentives. [adapted from abstract]
View this resource.
The HRH Global Resource Center has other resources on this topic including:
For additional resources on this topic, visit the Incentives subject category.
Past Resource Spotlights