Resource Spotlight: Non-Financial Incentives for Voluntary Community Health Workers: a Qualitative Study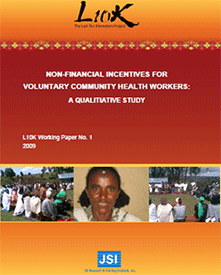 © Last Ten Kilometers Project
The Ethiopian Health Extension Program (HEW) has recently initiated the recruitment of voluntary Community Health Workers (vCHWs) in order to support and extend the reach of HEWs. VCHWs are community members who are selected from model families to receive a few days training and continual mentoring by HEWs. They are then expected to engage in health promotion activities in their community.
The L10K project is exploring the potential of non-financial incentives (NFI) in strengthening volunteerism among voluntary community health workers. This qualitative study attempts to shed light on the potential efficacy of NFIs in sustaining volunteerism among community health workers. This objective necessitated the investigation of the motivations of vCHWs and the factors that influence them, including the 'doability' of their role and barriers or de-motivating factors. The study also assessed the effectiveness of non-financial incentives proposed by the L10K project and others, as well as the mechanisms by which they can motivate vCHWs. Finally, the study explored the potential role of community anchors or local institutions in sustaining volunteerism among community health workers. [adapted from author]
View this resource.
The HRH Global Resource Center has other resources on this topic including:
Retention Strategies for Swaziland's Health Sector Workforce: Assessing the Role of Non-Financial Incentives
Health Worker Motivation in Africa: the Role of Non-Financial Incentives and Human Resource Management Tools
For additional resources on this topic, visit the Non-Financial Incentives subject category.
Past Resource Spotlights