Subject Guide: Gender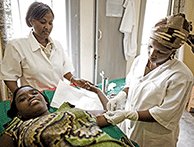 Gender segregation of occupations, which typically assigns caring/nurturing jobs to women and technical/managerial jobs to men, has been recognized as a major source of inequality worldwide with implications for the development of robust health workforces. Gender segregation in human resources for health (HRH) tends to differentially restrict access to health occupations, positions and tasks for interested men and women. In the era of HIV/AIDS, gender segregation of health occupations, in combination with the problem of brain drain, makes for problematic inefficiencies and missed opportunities because they create barriers to workforce entry and the fullest possible pool of formal and non-formal health workers.[1]
Addressing the Issue
The HRH Global Resource Center's collection includes materials on
gender issues
and
gender roles
as well as
gender policies
. There are also resources on significant gender-related problems such as
gender based violence
,
workplace violence
, and
sexual harassment
.
Recommended reading:
[1] Newman C, Makoae N, Reavely E, Fogarty L Alleviating the Burden of Responsibility: Report on a Study of Men as Providers of Community-Based HIV/AIDS Care and Support in Lesotho. Capacity Project. Accessed on March 25, 2009.