Resource Spotlight: Human Resources Information Systems Strengthening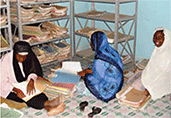 Many developing countries are facing daunting obstacles to meet the health care needs of their people. A critical challenge to training, deploying and retaining the health workforce is the lack of current, accurate data about health professionals working in the country. Even when data is collected, usually in paper form, that data often cannot be used effectively. A mature and complete human resources information system (HRIS) links all human resources data from the time health professionals enter pre-service training to when they leave the health workforce. Using the system, decision makers can quickly find the answers they need to assess HRH problems, plan effective interventions and evaluate those interventions.
This objective of this Capacity Project Concept Paper is to enable health sector leaders and managers to make data-driven decisions for human resources planning, policy-making and management through strengthening human resources information systems.
Author's description.
View this resource in the HRH Global Resource Center.
For additional resources on HRIS, visit the Information Systems subject category.
Photo credit: Dykki Settle, IntraHealth International
Past Resource Spotlights