Resource Spotlight: Forecasting the Global Shortage of Physicians: an Economic and Needs Based Approach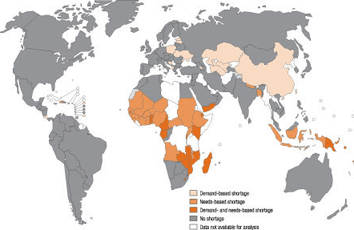 Physician shortages in 2015 based on demand and need models
It estimated that 57 countries have an absolute shortage of 2.3 million physicians, nurses and midwives. These shortages suggest that many countries have insufficient numbers of health professionals to deliver essential health interventions, such as skilled attendance at birth and immunization programs. However, these estimates do not take into account the ability of countries to recruit and retain these workers, nor are they specific enough to inform policy-makers about how, and to what extent, health workforce investment should be channeled into training of different professions.
This paper focuses on physicians, who serve a key role in health-care provision. Using the most updated information on the supply of physicians over a 20-year period, it projects the size of the future global need for, demand for and supply of physicians to year 2015, the target date for the Millennium Development Goals. The results point to dramatic shortages of physicians in the WHO African Region by 2015. This paper provides estimates of shortages by country in Africa and discusses the implications for different workforce policy choices. [Adapted from introduction]
View this resource.
The HRH Global Resource Center has other resources on this topic including:
For additional resources on this topic, visit the Workforce Assessment subject category.
Past Resource Spotlights