Resource Spotlight: Handbook on Monitoring and Evaluation of Human Resources for Health with Special Applications for Low and Middle Income Countries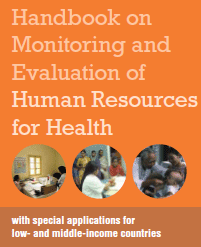 Handbook on M&E for HRH © WHO
Many countries currently lack the technical capacity to accurately monitor their own health workforce: data are often unreliable and outdated, common definitions and proven analytical tools are absent, skills and experience for assessing crucial policy issues are lacking. This Handbook aims to increase that technical capacity. It offers health managers, researchers and policy makers a comprehensive, standardized and user-friendly reference for monitoring and evaluating human resources for health. It brings together an analytical framework with strategy options for improving the health workforce information and evidence base, as well as country experiences to highlight approaches that have worked. The Handbook also contains a section on implementing human resources information systems to analyze the health workforce (p.129). [adapted from preface].
View this resource.
The HRH Global Resource Center has other resources on this topic including:
For additional resources on this topic, visit the Monitoring and Evaluation subject category.
Past Resource Spotlights