HRH Leaders in Action Interview with David Canther
An interview series with HRH champions in developing countries produced by the HRH Global Resource Center.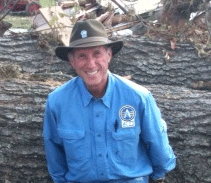 David Canther
David Canther is the Executive Director of Global Rapid Rescue Relief (GR3) where he is responsible for growing the organization's global mission to train people in emergency response, and for networking with others who are responding to emergencies to improve coordination of services.
What is the primary purpose of GR3?
GR3 stands for Global Rapid Rescue Relief. We focus on training and deploying emergency responders to natural disasters. We reach out around the world, and once your GR3 training on emergency response is complete, you are able to respond within the first 24 hours after a disaster. We do technical training in rescue and relief as well, because it is not just the first 24 hours or the first week of response that are needed. It is also important to create a sustainable approach where you work with the community to create continuity of care. Our training program is unique in that we train a lot of professionals that already have careers. We take people like nurses, emergency medical technicians, lawyers, etc. and train them in areas of specialty or interest to act as volunteers for emergencies.
What is your role in the organization?
As the founder of GR3, I am the networker. I think that success comes from connecting with the community and the available talents, gifts and strengths of people. I locate and connect key people such as fire chiefs, Red Cross groups, and civil governments so that when you need to respond to an emergency, you are already connected to the communities.
What do you view as your most important lessons learned from your work in training health workers?
One thing I have learned is to do a quick profile to assess someone's strengths. We have had success with this because is not me trying to ascertain strengths, but using commonly recognized tools to find out what talents and gifts someone has and then combining those talents to create a unified group for deployment. During a response, we use a process that is vitally linked to chain of command like the method used by the military. We want the volunteers to succeed, and you can only be successful if everyone knows what their role is and avoiding conflict by not knowing what they should be doing. We use a whiteboard with the structure, roles, and the volunteers' names. Since we rotate volunteers every week, the current volunteers can then also identify the person taking their place and provide mentoring to improve the response. This model is successful internally and is very compatible with the way other relief organizations are structured.
What are the most rewarding aspects of your role?
One thing that is rewarding for me is assisting people to find fulfillment in learning how to serve others. We create a niche for people to use their gift sets to help people. For youth, we can give them opportunities for modeling positive identities that help them find enjoyment working with others and avoid negative outlets such as gangs.
Could you speak about the importance of engaging faith-based leaders in your work?
It is an avenue that is far underutilized. We recognize that organizations like the United States' Federal Emergency Management Agency cannot do it all. There is no way you can pump enough money into it; and these agencies still won't be as effective as faith-based organizations that already have a structure and leaders in place in the affected community. We have to give more intentional direction to these groups. There is a movement now to leverage faith-based groups, but we have to educate them on a response that is different from proselytizing. It is not about converting to people to your faith, it is about uniting people of all faiths to make a difference.
What is the importance of partnerships in your work and what are some of your current collaborations?
One of our strengths is connecting with universities, medical institutions, churches, and non-profit groups such as Kiwanis Clubs and Scouts International. We don't reach out to individuals. We would rather collaborate with these institutions and universities, which is how we can be more effective. When we unite with them, they line up volunteers on a rotating basis, including medical specialists, so we have great success working with partners like this to find the volunteers that are most needed.
What do you see on the road ahead for GR3?
We want to identify collaborations while keeping our vision clear. We are looking for partners that have strengths that we don't so that we can contribute to an integrated approach. The world is changing, including educational tools. We don't want to recreate work that has already been done to develop emergency training online, so that is something we will want to unite with others to do rather than doing it ourselves.
What other things should people know about GR3?
People should be aware that there are entities like GR3 that want to utilize their gift sets. Those with occupations can still help even if they can't afford to take off for 6 months for disaster relief. Our niche is training people to respond who can then volunteer for a shorter amount of time. We also offer internships for universities that will help give students purpose and vision.
Past HRH Leaders in Action Interviews