Resource Spotlight: Human Resources for Health Planning and Policies for Sierra Leone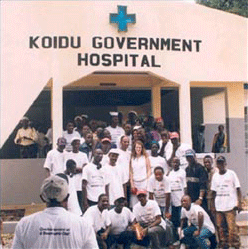 Photo: USAID, Premiere Urgence
The shortfall of health personnel continues to represent one of the major constraints to the development of health services and access to basic health care in Sierra Leone. This is against a background of increased demands for health care from various stakeholders, a shrinking budget against high expectations from the public for quality health care. Sierra Leone has implemented health human resource policies and plans to chart the course for a coherent resolution of major human resources problems and puts in place a framework to facilitate decision making in the human resources arena.
The HRH Global Resource Center provides hosting services for two of the HRH policy and planning documents for the Ministry of Health and Sanitation of Sierra Leone:
Sierra Leone Human Resource for Health Development Plan 2006-2010
This plan contains an analysis of the current situation with a focus on the distribution of Health Personnel, the current stock, wastage, outputs from training schools, dropout rates and human resources policies currently in place in the Ministry of Health and Sanitation. It also projects future requirements based on the recommended establishment.
Adapated from foreword.
View this resource.
Human Resources for Health Policy in Sierra Leone for the Ministry of Heath and Sanitation
The policy addresses the production and utilization of Human Resources (HR) within the Ministry of Health and Sanitation in Sierra Leone. It also responds to the contemporary challenges and developments including the exodus of human resources and advancement in technology. This policy intends to regulate and direct planning, production, management, utilization and monitoring of HR within the health sector.
Adapted from preface.
View this resource.
The HRH Global Resource Center has other resources on this topic including:
For additional resources on this topic, visit the HRH Strategic Plan subject category.
Contact us for more information on hosting HRH documents.
Past Resource Spotlights