Resource Spotlight: Rwanda Human Resources Assessment for HIV/AIDS Services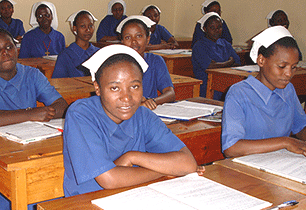 Nursing Students at Kabgayi
As the international community rallies funds to support the expansion of HIV/AIDS services in the developing world, the human resources for health crisis presents a significant challenge to achieving HIV/AIDS service delivery goals. This is especially true of countries in sub-Saharan Africa where, in the last 30 years, the health workforce has declined relative to population growth, and the HIV/AIDS epidemic has intensified health service needs.
This report examines the workforce issues surrounding HIV/AIDS service delivery. At the request of the Government of Rwanda, data were collected on current health sector staffing and from 20 public and private facilities of various sizes and characteristics on the time required to provide HIV/AIDS services and the quality of those services. The report presents data relative to the numbers of clients needing different types of HIV/AIDS services, providers' degree of compliance with service delivery standards and the time it takes to provide services. Staffing scenarios are projected to estimate how many staff would be required to meet targets, and from them, costs are projected. Author and publisher descriptions
View this resource.
The HRH Global Resource Center has other resources on this issue, including:
For additional resources on this topic, visit the HIV/AIDS and Workforce Assessment subject categories.
Past Resource Spotlights