HRH Leaders in Action: Ben Karenzi
An interview series with HRH champions in developing countries produced by the HRH Global Resource Center.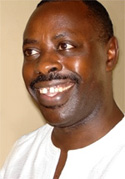 The 2006 HRH Leaders in Action series asks leaders to look at HRH leadership itself. Our first interview is with Ben Karenzi, MD, the Permanent Secretary of the Ministry of Health in Rwanda. Ben, as he asked to be called throughout the interview, is leading Rwanda through health decentralization so that the health care system is "closer to our people." He speaks powerfully—especially as Rwanda continues to heal in the post-genocide era—of being inspired by the belief that every human being has a purpose. As an HRH leader he wants to ensure that all health care workers fulfill their purpose and objectives.
What does it mean in Rwanda to be an HRH leader?
Ben: It is challenging and involves several tasks. Human resources for health is a special challenge for developing countries, where we have instability in the health skills market, migration from developing to developed countries and even internal migration from the public sector to civil society and NGOs. All this creates instability. The challenges we face [HRH leaders] are how to set the right policies, the right strategies, and how to make sure that our plans bring about good results.
As an HRH leader yourself, describe the path you took to your current leadership position?
Ben: I've been in public service for about twenty years now. I've been at the post of Permanent Secretary for about five years. As Permanent Secretary for the Ministry of Health, I've been at this post for about one and half years after working as the Permanent Secretary in the Ministry of Finance (MOF), where I looked after the Government of Rwanda's strategic planning. In the MOF, I focused mainly on what we call health-sector policy and strategic planning, which has major programs, number one being human resources for health. In particular, we worked with the people who are implementing the human resources government plan for the health sector. It is a five-year plan to resolve outstanding issues. What we found is that if we are going to do anything in Rwanda in the health sector post-genocide—after the loss of a lot of human capital—we need to address issues of human resources for health. Understanding this, we must find innovative ideas to tackle this strategic area.
You are also a medical physician—right?
Ben: Correct.
How does that background support you as an HRH leader?
Ben: It is good to have been a practitioner. I know the real needs on the ground—what the patients need from us, what type of quality of services gets results. And on the supply side, I know what a challenge it is for providers in terms of their numbers and quality assurance.
What have you learned from others—who have been your best teachers in HRH?
Ben: I personally have been a student of management, especially new public-sector management. I agree with the new practices in public management that recognize the human being as the focus of service provision. If we are going to work on that, we must make sure that individuals are built into strong teams so that they are able to achieve their set objectives. So what I have learned from others is the practice of a team's capability for achieving set objectives.
How would you describe your leadership style?
Ben: I believe every human being wants to work, wants to be productive. He needs the right work environment. My leadership style is to inspire and motivate people to be achievers.
What do you think others—those in the Ministry of Health, the clients you serve and the Government of Rwanda's leaders—expect from you?
Ben: We see as our primary purpose the Ministry of Health offering quality services to the population we serve. I expect my highest authorities and our population to demand that from my leadership. So my focus is mainly to design results-oriented performance based on a defined management mandate.
Describe an achievement in HRH that you are most proud of?
Ben: Here in Rwanda I take pride in our partnerships with all those who work in the health sector to develop a human resources development plan, which basically encompasses the three aspects of capacity building. With respect to capacity creation, we have been looking holistically across the health sector in Rwanda at the skills gap and how to create the right level of skills. So capacity creation is our first goal. And then how do we use the capacity we produce? We know the problem of disease burden is mainly in rural areas—traditionally there has been a disparity between what we see in urban areas and what we see in rural areas. Most health workers want to be in urban areas, where the living standard is much better. The rural areas are really underserved. Our second goal is to achieve a more equitable distribution of human resources for health. There is also the issue of retention. We have introduced ideas like performance-based contracting in the health sector with performance based incentives. We want to make sure that this innovative strategy of looking at retention is working for the country. This plan for me is an exciting result of the wonderful cooperation among all our partners in the health sector, and I am excited to see myself deliver on that.
What are the most rewarding aspects of your HRH leadership role?
Ben: For a public servant like me, it is to see results. I want to see results of the policies we put in place, of formal plans and strategies. I compare this to my time as a practitioner. If a person comes to you and you are able to see him or her out of the hospital smiling, there is no better reward. So in the leadership role I have now, the most rewarding aspect is to see results.
What is the biggest HRH challenge you are facing right now? How are you approaching it?
Ben: Retention of skills. I know we still have a lot of skills gaps in Rwanda, but even those [health workers] that we have, we are not able to motivate and retain. And that means more shortages. I hope the performance-based incentives we are putting in place will go a long way to address exactly this issue. It's too early to say that we can see results, so we are going to perform an impact assessment study over the next two to three years.
What do you do to help keep the Ministry of Health staff focused and their morale up while facing increasingly complex and changing conditions?
Ben: It's important to know how to build a team. It cannot be a few of us alone who can achieve results. It's important to keep the whole team focused on the main objectives, on our main initiatives. That means that we are going to work together to achieve those same objectives. Whatever conditions we are living in, I want my whole team focused on the issues. I want to make sure that in the working environment—in terms of human relationships and motivation—they are continually encouraged and inspired to achieve. In a country like ours, especially—Rwanda post-genocide, post-conflict—there is a feeling of commitment from all our citizens to try and make a difference. That is a fundamental aspect I wish to reinforce. I want them to be continually motivated and inspired to achieve their own objectives.
Where do you look for your own inspiration?
Ben: I think that every human being here on earth has a purpose. I see myself as having a role to play with all other human beings in a greater purpose. I attach all dignity to human beings as a requirement and attach the same to health workers in their respective roles. I see in us a purpose, and we should live to fulfill that purpose.
How has decentralization changed the nature of HRH leadership in general in Rwanda?
Ben: This transition has really been to see how we can offer better service to our people, and I think that through decentralization we will get closer to our people. We are excited in the health sector that service providers are closer to the people, and that the people can hold them accountable. We hope to achieve better service delivery through decentralization.
With decentralization we have of course had a change of roles. At the central level, we are left with the major responsibility of setting policies and standards and norms and making sure that we follow up and evaluate these where they are being implemented at different levels. For implementation, we have left it to the different levels—health district level, the health centers. We need to provide from the central level the capacity to implement with human resources and financial resources.
How do you cultivate leadership in others?
Ben: I want to lead by example. I want to make sure that others can see a true example of what I am trying to inspire in them.
What do you see on the road ahead for future HRH leaders in Rwanda?
Ben: For the leaders that come after me I expect them to always look at how the present strategic plan was put in place and how it can be adapted to changing circumstances. I consider what we have put in place to be the backbone for any future practices.